Battery Equipment
Our battery filling products are designed to keep your industrial batteries in optimum condition.
Forklift battery and battery accessories from the market leader
Powerful forklift trucks are the core of efficient in-house logistics. The forklift battery, in turn, is the heart of a forklift truck - it supplies it with energy and ensures that it functions reliably at all times. As the European market leader in the manufacture of forklift trucks and warehouse equipment, Linde Material Handling naturally also knows what matters when it comes to drive batteries and any forklift battery accessories. With our broad portfolio of lead-acid and lithium-ion batteries, we have the right technology for every need and across the entire fleet.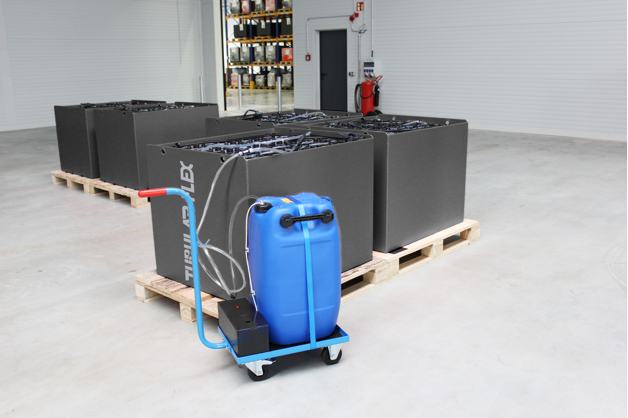 We have been developing highly efficient solutions for intralogistics for over 50 years. First-class equipment for warehousing and logistics as well as the right accessories ensure reliable and efficient work processes that give customer companies a clear competitive edge over their competitors. That's why you should also trust the market leader for forklift batteries and battery accessories, which stands for quality Made in Germany.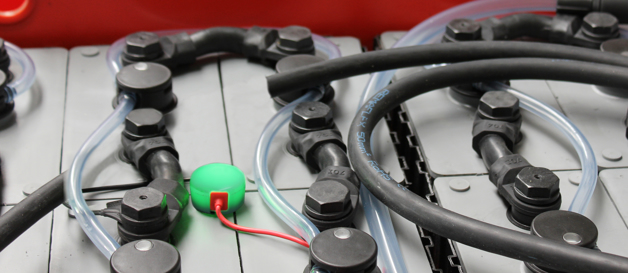 Forklift battery - suitable accessories for a long service life of the lead-acid battery
The best forklift truck can only serve you well if its battery is in perfect working order. Linde Material Handling supplies you with first-class quality.
Nevertheless, follow our tips to preserve the long life of your lead-acid battery and prevent unwanted work interruptions:
Always charge it with the appropriate forklift battery accessories.
Always ensure that the traction batteries still have about 20 percent battery capacity when recharging takes place. If the battery is not recharged until it is completely discharged, overheating is possible and significant damage to the battery may occur.
Always recharge a flat forklift battery as soon as possible and do not leave it uncharged for some time first. Lead-acid batteries discharge themselves when not in use.
For safety reasons, make sure that there are no easily flammable objects near the charger and battery during charging. Also, refrain from any fire-related activities in the load compartment.
Forklift batteries lose water during the charging process. To prevent damage to the battery, you should regularly check the filling level and always ensure that there is sufficient demineralised water in the battery. Use our battery filling systems for this purpose.
Battery filling system for forklift batteries
Every lead-acid battery for forklift trucks must always be filled with sufficient water. To ensure the required water level, we offer special battery filling systems. This important forklift battery accessory allows you to automatically adjust the nominal electrolyte level. Proceed as follows to ensure the necessary water balance of your traction batteries:
Provide each battery cell with a suitable plug to connect the battery filling system to the forklift battery.

Through the plug, insert a valve and float into each cell.

Once you have connected all the cells, you can easily top up with distilled water. Other important information:

Be sure to fill the battery with water only after charging. Since water is produced by chemical processes during the charging process, the forklift battery could otherwise overflow. This would cause toxic battery acid to escape.

Never fill a traction battery with water without a suitable filling system. If too much or too little water is used, damage to the battery can quickly occur.
A battery water system from Linde Material Handling is an essential and important accessory for the efficient operation of your trucks. It makes filling much more convenient and saves you time. You no longer need to check the water level of the battery after each charge; the system always keeps it at an optimum level. It is therefore worth relying on proven forklift battery accessories for this procedure, which can have far-reaching consequences if carried out incorrectly.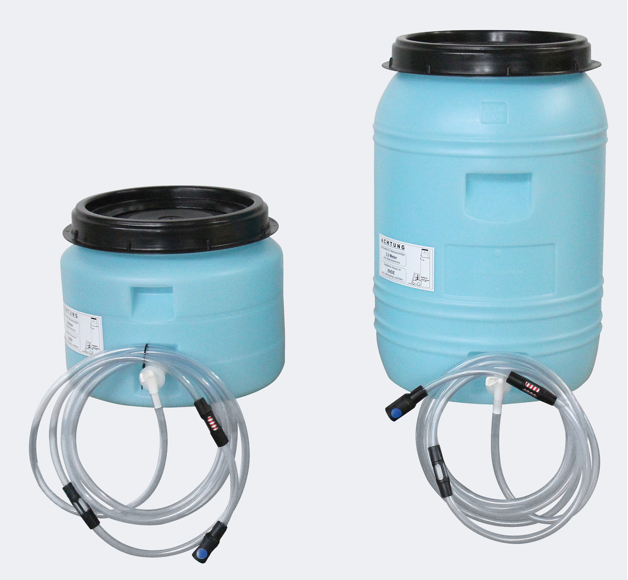 Important forklift battery accessories: everything you need for optimal care
Important forklift battery accessories mainly include components of the battery filling system as well as accessories for water treatment.
The components of a battery filling system include:
an electric level sensor: it indicates the current level of the battery.
Aquamatic tank with 60 litres or aquamatic tank with 30 litres: for easy and safe filling of the distilled water.
Filling gun: enables easy filling of batteries with distilled water.
Hose set for filling systems.
Furthermore, spare cartridges for desalination systems are part of the battery accessories:
They are important for demineralising battery water. Demineralisation of the water is essential because minerals could cause damage to the battery. Therefore, use only distilled water for the process.
By changing the cartridges regularly, you can contribute to a long service life of the truck battery.
Changing the cartridges is quick and easy.
That's why suitable, high-quality accessories for forklift batteries are so important
The battery is the most important component of the forklift truck. Accordingly, care and maintenance of the energy storage unit are indispensable. The right forklift battery accessories help to exploit the full performance potential of the forklift battery and significantly extend its service life. In addition, suitable battery accessories ensure safe filling so that there are no hazards from leaking toxic battery acid and failures in work processes are avoided. Fast and efficient filling also allows your workers to use the time saved for more profitable activities.
Buy battery accessories for forklift trucks at Linde Material Handling
Large range of accessories for forklift batteries
everything for water treatment and replacement cartridges for desalination plants
best quality
other accessories and retrofit options for safety and efficiency
Find suitable battery accessories for forklift batteries at Linde Material Handling now!