High lift trucks from Linde Material Handling: from manual to electric
Safe and efficient work in logistics requires high-quality and precise work equipment. Linde Material Handling offers you a wide range of high lift trucks with which you can manoeuvre even large loads of up to 2,800 kilograms almost effortlessly. Discover manual, semi-electric and electric high lift pallet trucks from intralogistics specialist Linde Material Handling now and ensure smooth workflows wherever and whenever you need them - even under challenging conditions.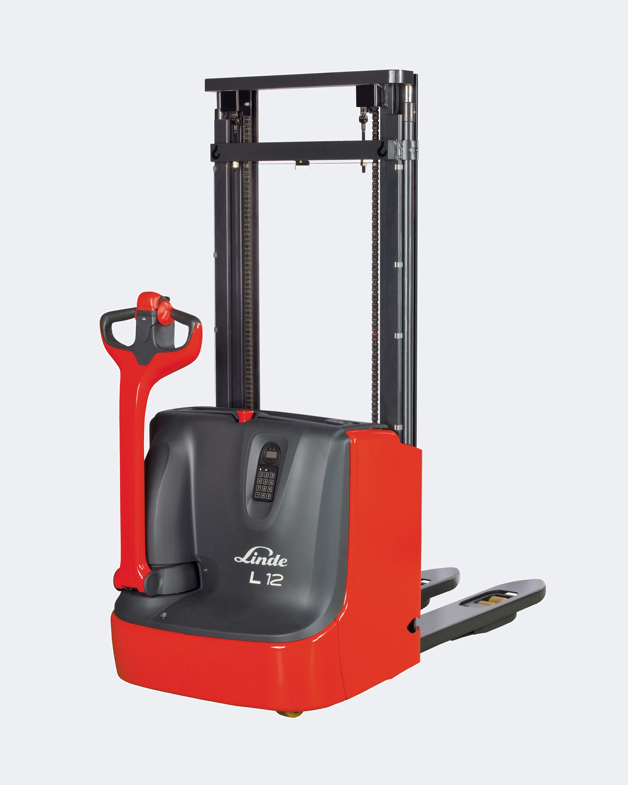 Flexible powerhouse: working with the high lift truck
Our high-lift pallet trucks are used particularly frequently for warehouse work. They are equipped with a stable lifting frame, a high-quality lifting mechanism and robust forks. This makes it possible, for example, to transport pallets quickly and effortlessly on level ground. While our low-lift trucks and hand pallet trucks are designed for working on ground level, you can also lift goods onto raised storage surfaces and shelf levels with the load forks of our high-lift trucks.
With the lifting forks, goods weighing up to 2,800 kilograms can be placed at a loading height of up to 5.5 metres.
High lift trucks from Linde Material Handling are characterised by the following features:
Manoeuvrability
safety
Precision
Efficiency
Robustness
High lift truck or forklift truck?
The high lift truck is a real alternative to the forklift truck, especially due to its manoeuvrability and lighter weight. After all, the latter needs a counterweight, which reduces its manoeuvrability and flexibility somewhat - especially in confined spaces. In addition, a high lift truck is also ideal for storing larger loads on higher shelf levels. You can work with it in a space-saving and precise manner - even in limited spaces or narrow storage aisles.
Another advantage: all you need to operate a high-lift truck is professional instruction. To drive a forklift truck, on the other hand, you need a forklift driver's licence.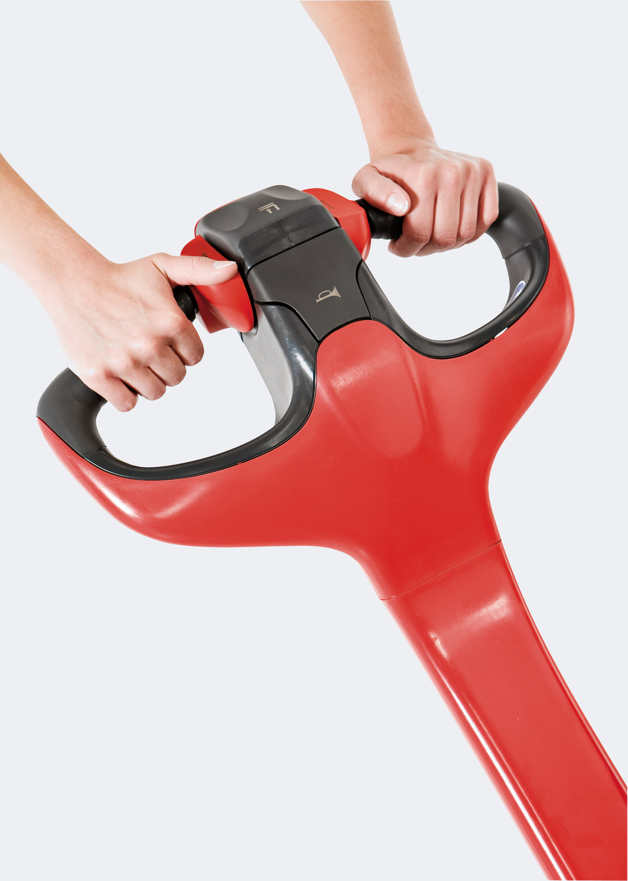 The right high-lift truck for every application
As a rule, a distinction is made between three variants of high-lift trucks:
manual
semi-electric
electric
You should choose the appropriate variant depending on your needs and area of application. The cost of a high lift truck from Linde Material Handling is between 2,000 and 7,500 euros, whereby the exact price depends on the model and design of the truck. Our service team will be happy to advise you on this.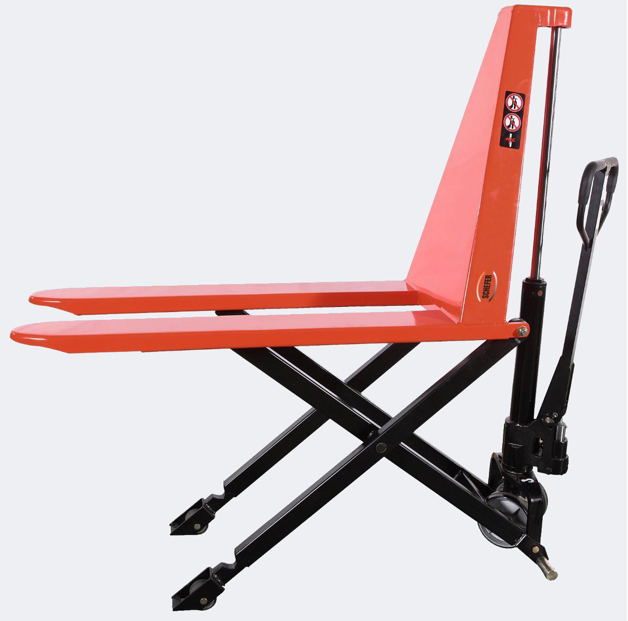 Manual high lift truck
With the manual pallet truck, also called hand stacker or hand pallet truck, the goods are moved in the desired direction by muscle power and a flexible tiller. The inexpensive hand pallet truck with low underride height is particularly suitable where light loads need to be transported and storage work is only required on a small scale. For loading and unloading trucks, for example, the use of manual high-lift trucks with a maximum load capacity of 1,500 kilograms is recommended.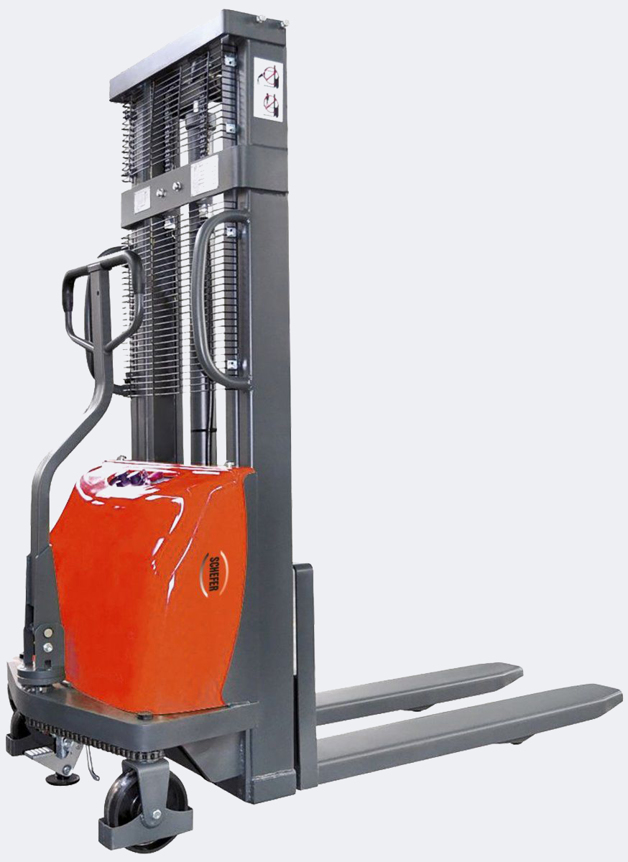 Semi-electric high-lift truck
The semi-electric high lift truck has a lifting motor and is a mixture of the manual and electric versions. The pulling of the high lift truck is done manually and with body power. The lift, on the other hand, is electric and therefore does not require muscle power. The semi-electric high-lift truck is particularly suitable for medium-heavy goods. It is easy to operate and therefore recommended for daily use, especially on short transport routes.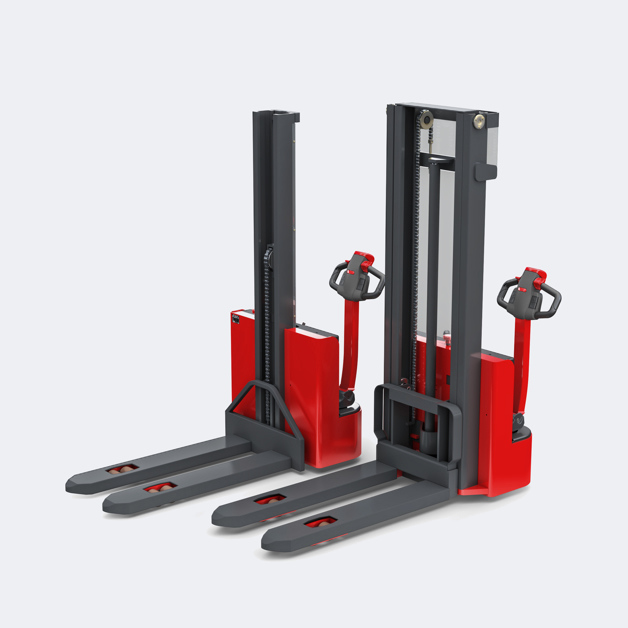 Electric high-lift truck
In the electric high lift truck from Linde Material Handling, the drive and lift are powered by a powerful motor. This ensures effortless operation and fast transport. The electric version is suitable for many areas thanks to its large load capacity of up to 2,000 kilograms:
Manoeuvring with heavy goods
Loading and unloading high racks
Covering long distances within a warehouse complex
Further plus points: The soft-landing function of the Linde trucks guarantees gentle lowering of the load; a stand-on platform also ensures manoeuvring that is easy on the operator's strength.
Buy a high lift truck
Linde Material Handling has always been known for innovation in warehouse technology and for the development and production of high-performance warehouse equipment. Are you looking for a reliable and durable high lift truck for everyday use?
Whether manual, semi-electric or electric pallet truck with initial lift: choose from a variety of models that cover the most diverse needs in terms of lifting height and load capacity. At Linde Material Handling, you will find the lift truck that perfectly suits your needs and requirements. For special requests, such as a wide-gauge high lift truck, equipment is also made to measure!
Buy, lease or rent: Financing solutions from Linde Material Handling
Have you decided on a high lift truck such as the L10, the L12 L10B or the ML10? Whether leasing, rental, hire purchase or rental: Take advantage of our expert advice and our tailor-made financing concepts for high lift trucks.
Linde Material Handling - your leading manufacturer for warehouse equipment n
Linde Material Handling is one of the world's leading manufacturers of forklift trucks and warehouse equipment and employs over 13,000 people. In over 100 countries and at more than 700 sales and service locations, Linde Material Handling offers seamless service. A network of over 8,500 service technicians guarantees you the greatest possible availability of vehicles and the procurement of spare parts within 24 hours. In Austria, you can find us at the headquarters in Linz and at the branches in Dobl, Hohenems and Wiener Neudorf, as well as at a large number of service points throughout the country.
Awarded: A sustainability strategy for the environment, employees and customer companies
Linde Material Handling received the highest award from EcoVadis in 2019 for its sustainability management. The Aschaffenburg-based goods handling specialist also consistently scored top marks in the area of corporate responsibility in previous years. Since 2012, Linde Material Handling has been pursuing a comprehensive sustainability strategy that pays particular attention to the issues of climate change and resource scarcity, respect for human rights and ensuring diversity and equal opportunities.